With the arrival of Archie Harrison Mountbatten-Windsor, we're giddy over baby news!
The delightful news has had us looking at the gorgeous styles and looks the Royals have worn for previous christenings, so we thought we'd celebrate with our ultimate guide to christening fashion for women over 50.
What to wear to a christening largely depends on the location and your relation to the family. A cathedral location demands a gorgeous dress and maybe even a hat or fascinator, whereas a party in your friend or family's garden is much more suited to your favourite jeans or a simple skirt- after all you might be playing with some of the little ones!
There are no hard and fast rules regarding christening wear, other than go in what you feel comfortable in! However, we do of course have a few recommendations to help you choose the perfect outfit for the day. Tailored and classic looks in soft, pastel colours are an ideal choice for a delightful day, and we love a gorgeous lace dress, pretty jumpsuit, stylish suit or floaty skirt and top for the special day.
Lace Dresses
Lace dresses for over 50s are the perfect choice for a wedding; their luxe designs are timeless, and look equally pretty for such a joyous occasion. Pastels are perfect for a christening, but don't be afraid to head for a darker or brighter dress if that's more your style; after all, we want you to be comfortable. These dresses showcase romantic hemlines and pretty detailing so you'll look just the part.
Left: Phase Eight Mahlia Sequin Lace Dress, sizes 8-18, £250
Middle: Gina Bacconi Luzetta Lace Dress, sizes 6-22, £290
Right: Next Navy Lace Dress, sizes 6-22, £55
Print Dresses
If you just love prints, choose a design in a happy colour or pretty pattern to brighten up your look. The gorgeous sunflower dress and jacquard dress help create a waist whilst looking vibrant, whilst the blush shift dress helps to hide any tummy!
Left: Wallis Blush Floral Print Split Front Dress, sizes 8-20, was £50 now £40
Middle: Amanda Wakeley Blue Cloque Jacquard Midi Dress, sizes 6-14, £1495
Right: Phase Eight Stephanie Floral Dress, sizes 6-20, £140
Coat Dresses
If you're looking for a gorgeous outfit that covers your arms, or you're heading somewhere where you need to keep warm, coat dresses are the perfect choice! Worn either on their own or over a matching dress, these designs are timeless as well as stylish.
Left: Ted Baker Elegant Textured Dress, sizes 6-16, £279
Middle: Chesca Direct Blue Clarabelle Stretch Crepe & Lace Dress, sizes 12-24, £280
Right: Gina Bacconi Krista Jacquard Coat, sizes 8-22, was £240, now £192
Jackets
The perfect accompaniment for any dress, skirt or pair of trousers is a fitted blazer. Not only do they look smart, they also flatter anyone's shape. We've chosen three blazers in gorgeous colours to brighten up your outfit, in a range of lengths and fits to suit every figure.
Left: Hobbs Green Trent Silk and Linen Blend Jacket, sizes 6-18, £179
Middle: Boden Elizabeth Ponte Blazer, sizes 6-22, £98
Right: Phase Eight Tammy Jacket, sizes 6-20, £130
Skirts
If you don't love dresses, or want to look a little less formal, a stunning skirt teamed with a smart blouse or shirt is an ideal choice. Wrap skirts are trending at the minute, so knee length and midi lengths look equally as gorgeous. If you don't like floaty skirts, choose a pencil skirt in a bright or patterned colourway so it doesn't look too much like you've just stepped out of work.
Left: Hobbs Blue Iona Wrap skirt, sizes 6-18, £99
Middle: Ted Baker Fantasia Split Hem Midi Skirt, sizes 6-16, £159
Right: Boden Modern Pencil Skirt, sizes 6-22, £65
Accessories
Check how formal your christening is likely to be- some venues command a pretty fascinator, whereas they could be too formal for others. If you have a plain coloured dress, pick a pretty clutch in a contrasting colour or a playful print, and choose a plain clutch to pair with a patterned dress.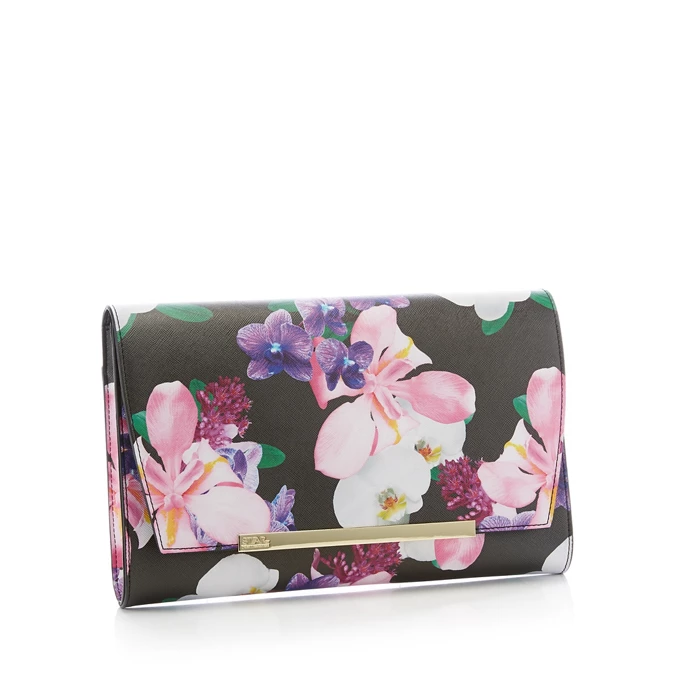 Left: Debenhams Star by Julien Macdonald Multicoloured Floral Print Clutch, £29
Middle: John Lewis & Partners Kira Fascinator, £30
Right: Hobbs Purple Sarah Clutch, £99
Stylish clothes for over 50s can sometimes be difficult to find, so we hope our one-stop guide has given you the perfect inspiration.
Have you got a christening coming up soon? We'd love to hear your story!
You might also like