As the nights get darker and the days get colder, we sometimes need some extra luxurious pieces to help us relax, unwind and de-stress. Fortunately, Beauty Expert have released their gorgeous new collection, The Restorative Edition, to achieve exactly that!
This gorgeous bag features restoring goodies worth £195, for just £69. Whilst we must admit that price point certainly caught our eye, the list of iconic products in the collection meant we couldn't resist our first foray into Beauty Expert's Collections!
The luxe duck egg blue make-up bag contains 6 beauty luxuries curated by beauty experts, put together to help you discover a sense of inner peace during the crisp and unpredictable weather. We've tried each of the pieces for you to see whether you should try this yourself (Tip from us: you should)!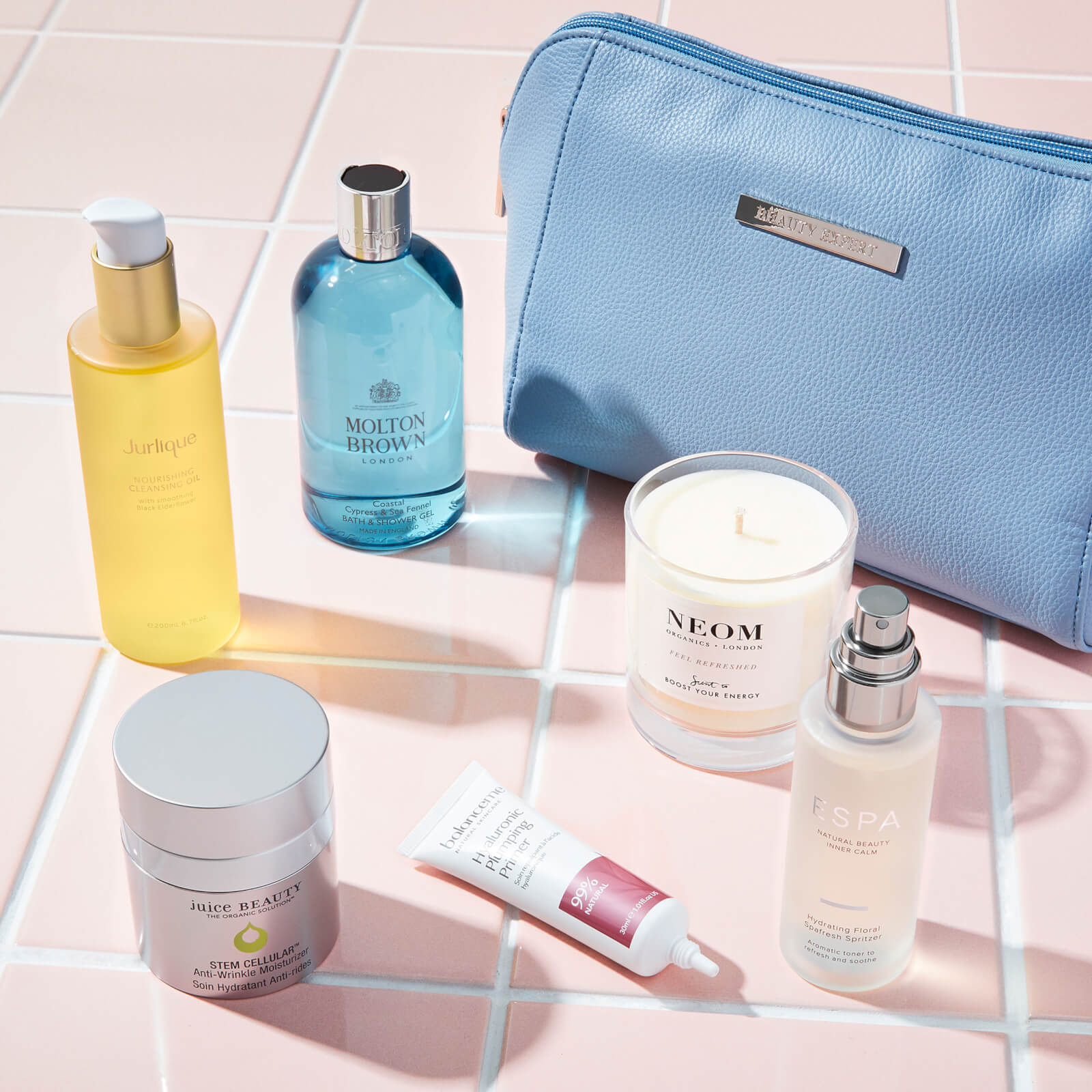 NEOM Organics Feel Refreshed Scented Candle, worth £32
This was a gorgeous little treat in a skincare bundle! We love a good candle, and this has a truly unique scent. The NEOM Scent To Boost Your Energy range has been crafted from natural fragrances that have an energising effect on the mind and body, and we certainly felt this as soon as we took the candle out of the presentation box! The gorgeous smell filled the room as we lit it, and even lingered as we woke up the next morning. We think this would be absolutely perfect in the morning whilst we're having a shower and breakfast, where the essential oils like Sicilian lemon and fresh basil can refresh and energise us; ready for the day.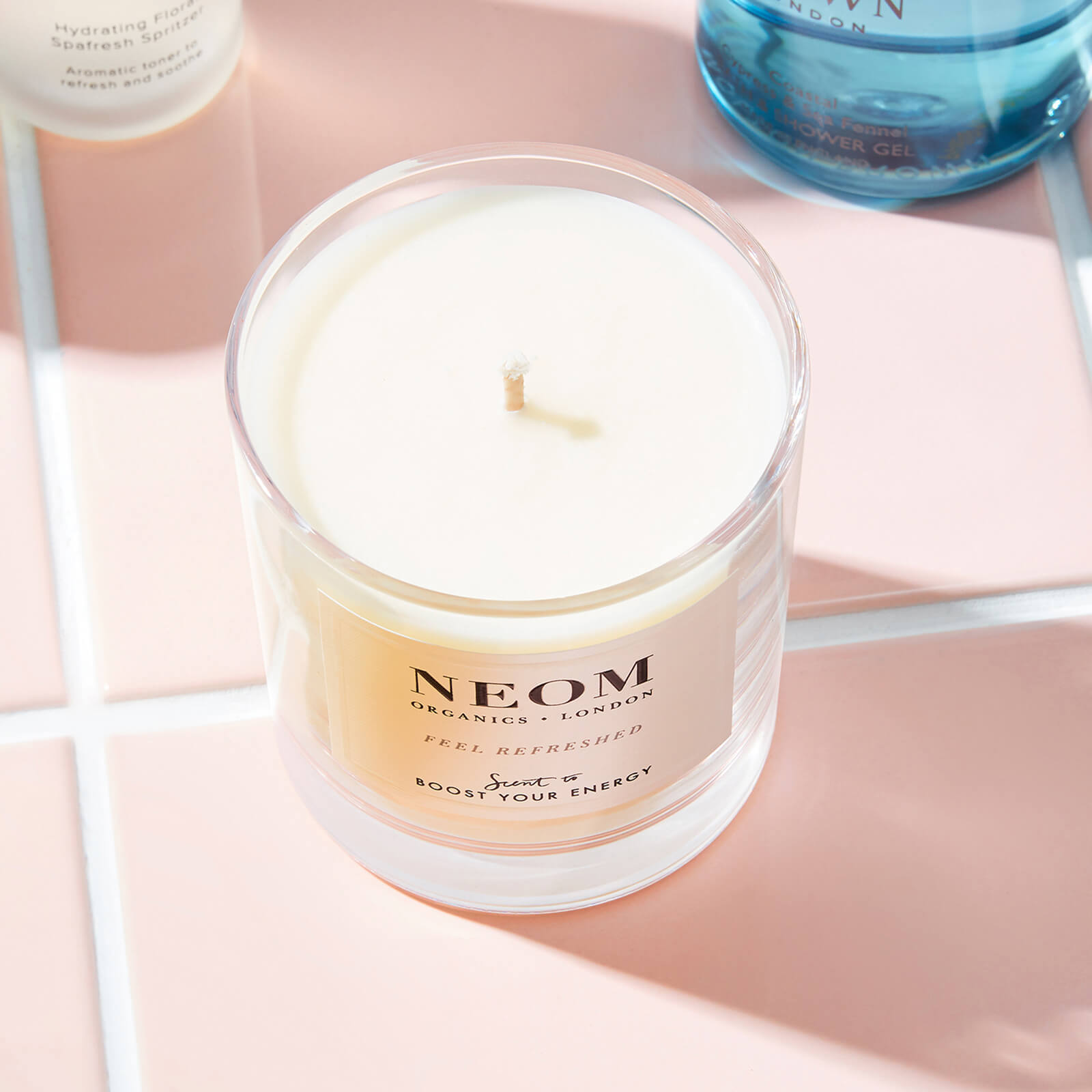 Jurlique Nourishing Cleansing Oil- worth £25
With the key benefits of restoring skin suppleness for a youthful look, smoothing, softening and brightening, and nourishing, nurturing and hydrating, we were certainly excited to try this last night! We simply put the oil on wet skin to remove all of our makeup perfectly; even our waterproof mascara. This oil is said to remove pollution, impurities and excess oil, and we felt it left our skin soft, clean and supple after just one use. With natural ingredients like elderflower extract and blackcurrant seed oil, we can see why this has had rave 5 star reviews.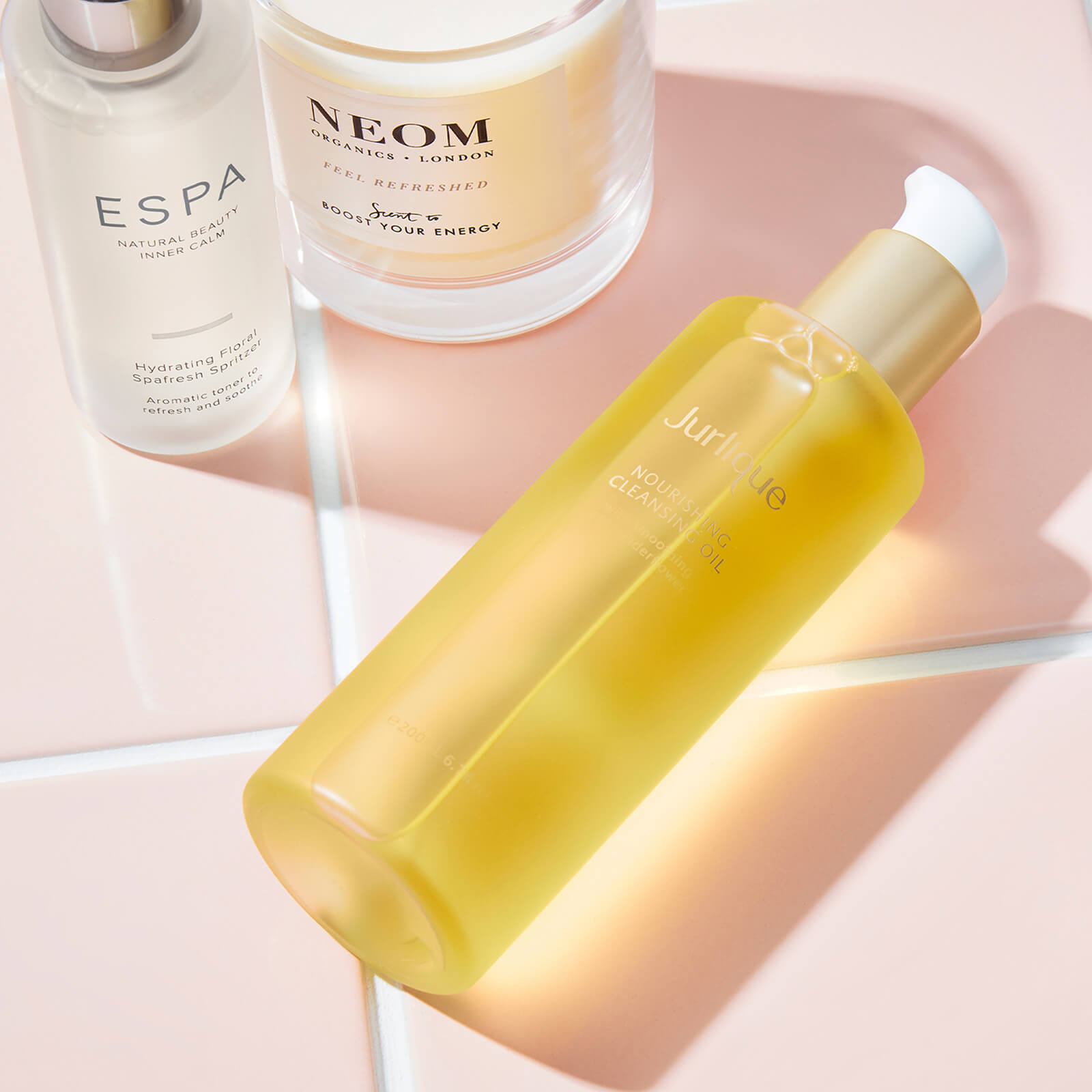 Molton Brown Coastal Cypress and Sea Fennel Bath and Shower Gel- worth £22
For the first time in a while, we were excited to get out of bed and hop into the shower to try this! We've commented on how gorgeous the smell is, so we're very pleased to still get hints of it at lunch time. This fresh scent has hints of the beach and relaxing holidays, so it's the perfect little escape from daily work, commutes and food shops. This lathers beautifully and feels totally refreshing in the shower, without being overpowering. We did notice the Molton Brown website mentions this is a men's shower gel, but we absolutely love the scent, and we're sure our partners will too!
ESPA Hydrating Floral Spafresh- worth £20
You can't have a gorgeous cleansing oil without an equally gorgeous toner, so we thought this collection was expertly thought out! ESPA's Spafresh is swept over the face, neck and decollete, and is used to refresh and comfort the skin. It's suitable for all skin types, particularly dehydrated, dry and sensitive skin, and we absolutely loved the Rose Damascena, Neroli and Rose Geranium scent that hydrates, protects and replenishes.
Juice Beauty Stem Cell Moisturizer- worth £70
This Stem Cellular Anti-Wrinkle Moisturizer is ideal for all skin types, especially those showing signs of ageing- perfect for us ladies over 50! Infused with ingredients like resveratrol which can help fight free radicals, antioxidant-rich jojoba and shea to hydrate and moisturise, fruit stem cells and Vitamin C to improve the appearance of skin tone, and essential fatty acid emollients, this truly is a wonder-mix of ingredients! Upon first use, we got a little excited over the gorgeous, zesty scent and pressed the pump a little too hard which meant quite a lot came out, as we discovered, a little goes a long way! We used less the next time and it worked wonderfully; the moisturizer dried quickly and left our skin feeling wonderfully soft and supple without feeling greasy. It's a little too early to see the effect on our wrinkles, but all their 5 star reviews state it's fabulous!
Balance Me Hyaluronic Plumping Primer- worth £26
To finish off before we applied our make-up, we tested this primer before we applied our concealer and foundation. The product states this instantly smoothes and lifts skin, minimises lines and wrinkles, and refines and plumps skin over time with its natural and hero ingredients. A small amount instantly plumped our skin, and created a smooth, matte baselayer for our makeup; perfect!
No coupons found.
You might also like