As the rules change once again, more and more people head back to work from home, and there's another increase in heading out for a walk in the countryside over a trip to the gym. We're seeing once again, that comfy is the new fabulous!
An increase in loungewear, comfortable fabrics and ergonomic trainers has been spotted on the high street as well as the runway, so we're oh-so pleased to see a pair of iconic FitFlop Rally trainers on our feet once more! With a variety of colours, a lightweight design, pressure diffusion & body alignment perfect for comfort, let us take you through our favourite trainers and how to style them for a stylish 50+ lady…
The style that started it all is the classic white colourway, with their old-school 'tennis shoe' shape. Whilst we may not be heading to Wimbledon, we can certainly add a touch of sporty style to our outfits! If you're looking for one pair of trainers that will suit everything, a pair of lightweight, clean white sneakers is ideal- they go with dresses, skirts and jeans, and look effortlessly stylish with suits at any age. Whether it's to pop to the supermarket or the high street, these are simply essential.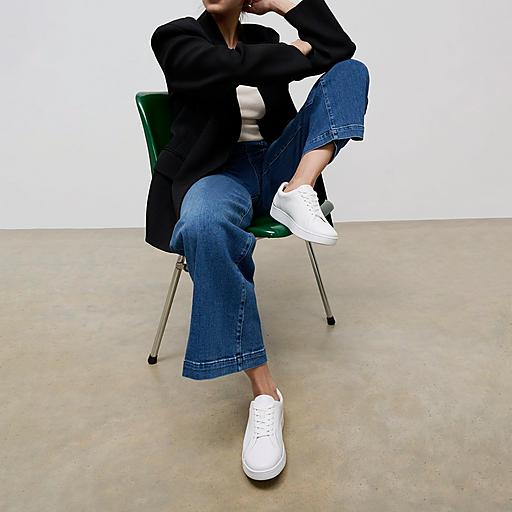 If you're looking for a white trainer with a twist, these white croc sneakers are the perfect look for you. The Anatomicush footbed technology on all FitFlop Rally trainers includes lightweight, hardwearing and slip-resistant rubber pods to the front and back, superlight flexible cushioning, an anatomically contoured footbed for increased foot-to-midsole contact for maximum comfort, and flex lines across the sole so your foot can move more freely. All of this packed together helps with pressure diffusion and body alignment. That's a lot of technology and comfort in an un-obtrusive sole!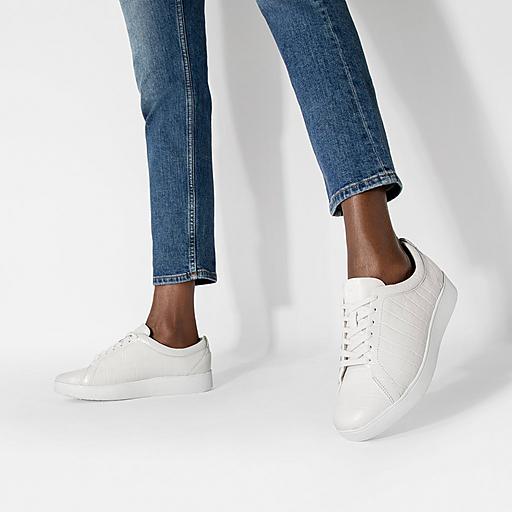 Add a touch of sophisticated style to your trainers with a sumptuously soft metallic colourway. This softly padded, supple leather style combines comfort with va-va-voom for a casual look that still turns heads. Team this pretty metallic colourway with your favourite straight leg jeans and a cashmere jumper for a laid-back yet eclectic look, or mix things up with a patterned midi skirt. These outfits look perfect at any age!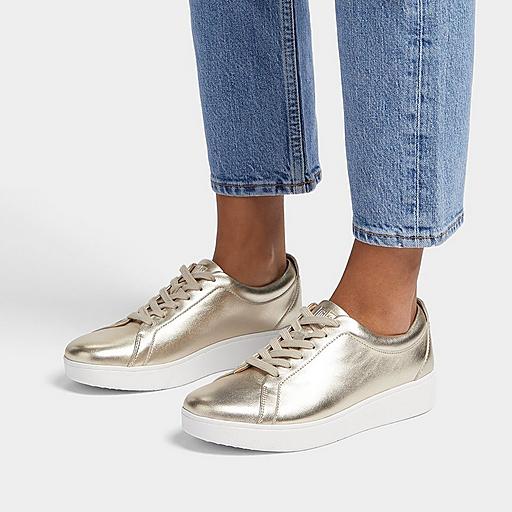 Croc styling and black and white is the perfect combination to hit three key autumn/winter trends- comfort, monochrome and animal print. Team these stylishly simple trainers with your comfy leggings, favourite trending straight-cut jeans or loungewear, and head to the streets (or stay in the house) in comfort and style.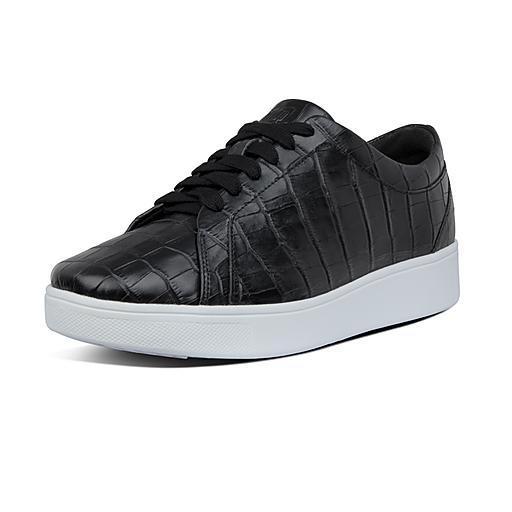 If you're looking for a pair of lightweight, comfortable trainers that help with pressure diffusion and body alignment to keep you on your feet all day, these trainers are perfect for you. Tell us your favourite Rally colour below, and use our code 'NEWADDICT' to get 20% off your first pair of FitFlop shoes!
You might also like